But the campaign results probably helped seal the deal
780 leads
15% uplift in new business
220% increase in website traffic
9.5% landing page conversion rate
Take a look at the case study below and see how we combined the power of marketing automation with clear communications to create increased engagement.
‍
A Strategy to Align Sales & Marketing
Summary
Ricoh UK needed to align sales and marketing and move to a sophisticated inbound marketing model where leads would be nurtured before being handled by sales.
HarveyDavid worked with the Ricoh UK sales and marketing teams to design a joined-up approach that not only aligned both departments but increased the sales team's appetite to use marketing automation to nurture prospects.
The resulting campaign has so far created a 15% uplift in new business – worth millions in revenue, delivered more than 780 new leads (and rising), increased web traffic by 220% and provided a massive uplift in sales engagement with marketing. Read on and discover the process HarveyDavid applied to make it happen.
The audience
The audience knew they needed to change the way their office operated in order to attract the best talent and meet the pace of change created by disruptive technologies. They were, therefore, seeking high-value content that answered the deeper questions relating to office transformation and how it impacts their people.
Objective/Strategy
The client objective was to move away from a product only focus and aggressive sales follow up to a more customer centric experience, allowing prospects to self-educate on core business transformation challenges by reading engaging thought leadership reports and articles.
With big personalities leading sales and marketing, it was important for us to add value in both camps and find common ground to align them.
Our goal was to create a mix of high value content by-lined by sales individuals and leverage marketing automation to provide prospect nurturing at scale and ensure a good customer experience.
‍
To deliver the campaign, we addressed the challenge in 6 key stages:
1. Workshops
We started by holding a series of workshops with sales, customer service, product owners and marketing where everyone contributed to help shape a customer narrative/journey to purchase. We used these discovery meetings to learn how sales typically operated, understand specific customer needs and identify barriers to purchase.
‍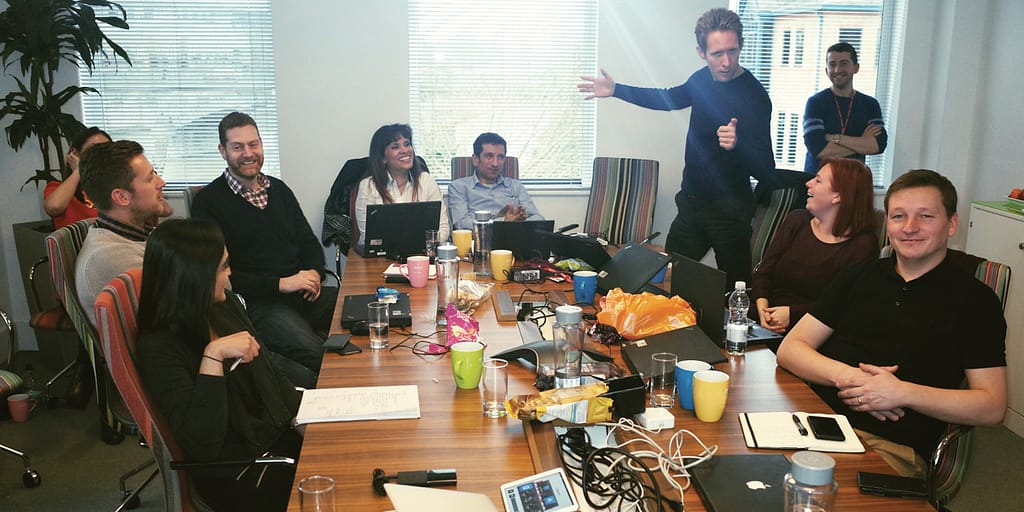 HarveyDavid Workshop with Ricoh Marketing & Sales Leads
‍
2. Analytics informed the messaging
By reviewing the website analytics and taking into consideration what we had learned from the workshops, we were able to identify the best-performing content and topics. We saw that Ricoh's customers weren't looking for lofty opinions or think-pieces, they wanted practical advice, real answers to real questions.
It was necessary to consolidate multiple websites, relaunching a single website containing highly considered and informative reports and articles which both highlight Ricoh's expertise and also provided an easier to understand value proposition.
‍
‍
3. Content
We focussed our content efforts on providing insight, answering questions, being helpful and adding value for the end-user. This meant publishing less but more thorough content. This new content was smarter, much more detailed and better researched.
We created a new report called 'The Essential Guide to Creating an Optimal Office'. This evergreen 'lead magnet' talked prospects through every stage of the workplace transformation process, starting with optimising their people, their processes, the physical workspace and finally their technology stack. The guide was full of practical, hands-on advice and the written style was concise and punchy for maximum 'skimability'.
‍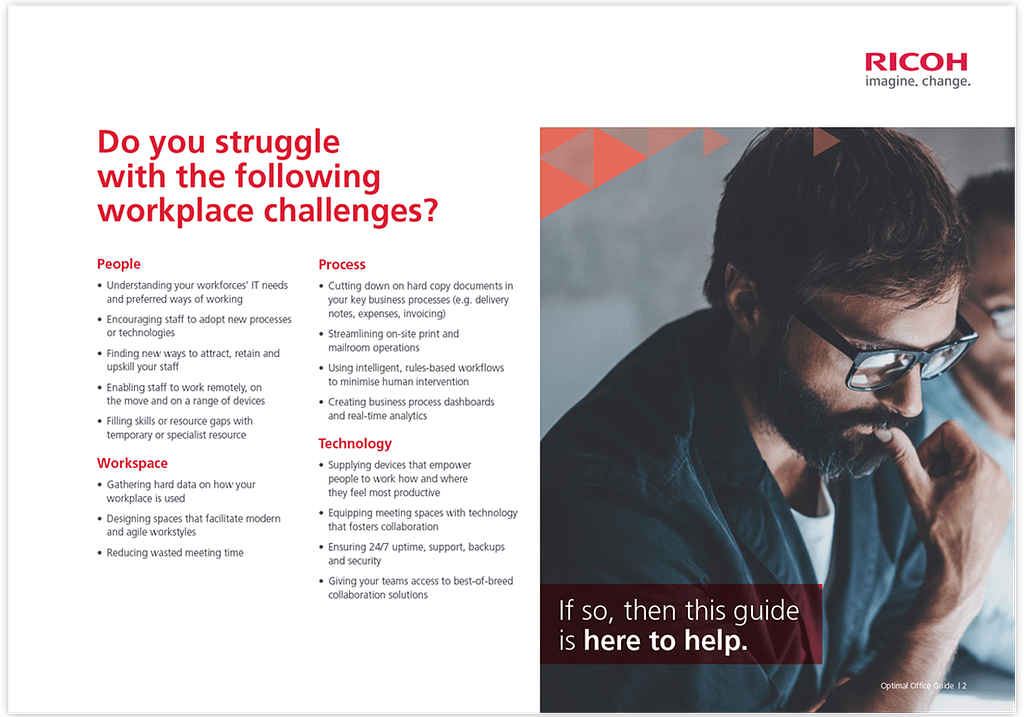 ‍
We also created regular blog posts which used an interrogation process between our creative writers and sales specialists to identify specific subjects and unique contributions to form the blog content. These were then attributed to sales individuals when being posted on the Ricoh Insights website.
‍
4. Leveraging the power of marketing automation
Once we had a prospect contact and their intent data captured in Eloqua the next step was to identify the topics they were most interested in. We could then serve them with relevant content based on their views, eventually channelling them into bottom-of-funnel campaigns focused on the products or services which best answered their needs.
‍
Top of funnel campaign to attract audience, capture data and segment for specific subject matter communications
‍
Eloqua lead nurture flow
‍
‍
5. Sales enablement
In order to bring the wider sales team even closer to marketing we created a 'Marketing Campaigns' portal in Eloqua to enable sales to trigger campaigns remotely. The portal, accessible via mobile or desktop, provided the sales team with access to lead generation marketing campaigns. This meant they could leave a meeting and drop the attendees details straight into a hyper-relevant nurture campaign and monitor the actions of the recipients. The sales team then had their own access and notifications so they could see the content being viewed by the prospect, the pages visited and other useful information to help them hold relevant follow up conversations.
‍
Trigger a personalised campaign from anywhere
‍
‍6. Helping sales get social
We attributed every content post to a customer-facing member of Ricoh's team, usually a senior sales person. We also included headshots so that people could see the author. This had a number of effects:
– It shifted the tone from 'corporate' to 'personal'
– It raised the profile of Ricoh's sales leaders and made Ricoh feel more approachable
– It increased the levels of awareness as Ricoh representatives are more likely to socially share content that has been written by a colleague (or ghost-written for them)
– It created a sense of FOMO – when salespeople saw their colleagues being featured in an article, they wanted to be featured too.
Now the content was being attributed to sales staff, we encouraged other members of sales and marketing to share it via their own social channels. We proactively fed the results back so they could see the positive impact this was having.
‍
Keeping everyone excited about the progress
‍
Results
Traffic to web domain increased by 220%
Campaign delivered 780 targeted leads to date and continues to deliver new leads on an ongoing basis.
Achieved 9.5% conversion rate on the landing page
‍
Testimonial
"The feedback internally between sales and marketing has certainly been very positive. And I've been keeping a close eye on the downloads and MQLs being generated today – it's looking very good. Well done team."
‍
David Clack
Head of Communications, Marketing at Ricoh UK
‍
‍HarveyDavid are keen to see how we can help you drive engagement, improve ROI from your marketing automation and join us on stage to pick up an award (or two).